Sunshine Coast Housing and Homelessness Action Plan 2023
The Sunshine Coast Housing and Homelessness Action Plan 2023 brings together the various activities undertaken by council to enable housing availability and diversity, reduce housing stress and respond to homelessness in our community.
Council endorsed the Sunshine Coast Housing and Homelessness Action Plan 2023 (PDF, 2.8MB) at its Ordinary Meeting on 27 July 2023.
Purpose
The purpose of the Housing and Homelessness Action Plan 2023 is to reinforce council's commitment to facilitating affordable and diverse housing options and to build our capacity to respond to homelessness and support community-led initiatives.
Overview
Like many parts of Queensland and the country, Sunshine Coast is experiencing a "housing crisis", driven largely by declining housing affordability. Housing affordability is defined as the impacts of the prevailing economics, financial and social costs associated with housing demand and supply, that may constrain the ability of households to own or rent their own home and represents the underlying costs of developing housing for the market.
The successful delivery of improved housing and homelessness support is reliant on a collaborative and integrated approach between industry, government and community. This action plan frames the collaboration and integration necessary to achieve the outcomes to support the community of the Sunshine Coast.
The Sunshine Coast housing and homelessness action plan focuses on 5 key activities to improve the housing response at the local level:
delivery
facilitation
advocacy
building capacity
building our knowledge.
For more information, please contact council.
Featured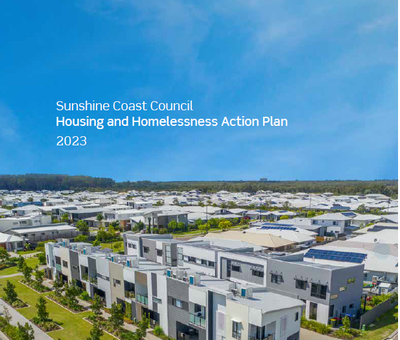 View the Housing and Homelessness Action Plan 2023
View the Housing and Homelessness Action Plan 2023