Caloundra Transport Corridor Upgrade
As part of a major transport infrastructure investment into the future of Caloundra's lifestyle and economic development needs, council will deliver a new transport corridor, as part of the Caloundra Transport Corridor Upgrade (CTCU).
A road upgrade and new extension is being delivered between Omrah Avenue and Nicklin Way. The 1.6 kilometre Caloundra Transport Corridor Upgrade (CTCU) has been planned since the early 2000's and will improve connectivity and travel choice into Caloundra by creating a new connection into the Caloundra CBD and reducing traffic congestion at the Caloundra Road/Nicklin Way/Pelican Waters Boulevard roundabout and on the eastern end of Caloundra Road.
This major transport infrastructure investment is the next step in meeting the current and future needs of motorists, cyclists, pedestrians and public transport users in Caloundra.
It is being delivered by Sunshine Coast Council, the Australian Government and Queensland Government (through the Department of Transport and Main Roads).
Omrah Avenue to Nicklin Way upgrade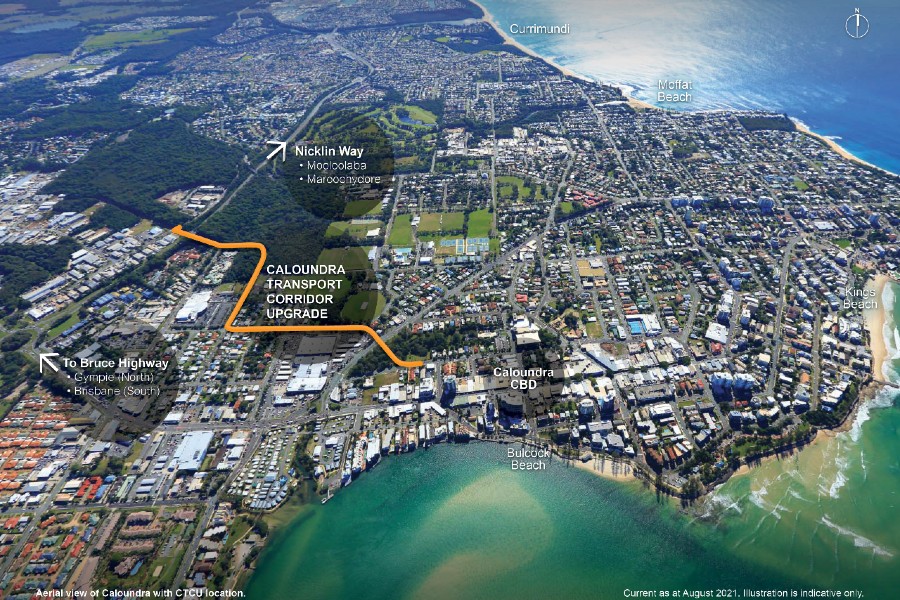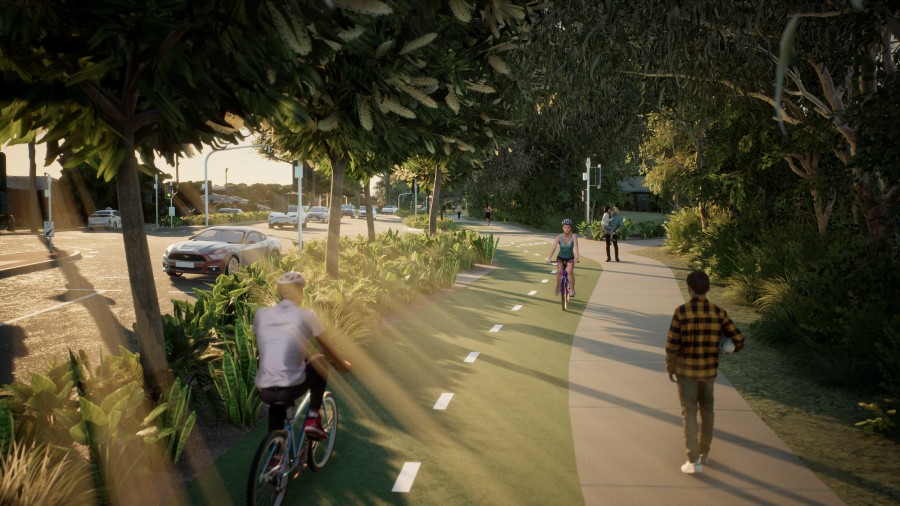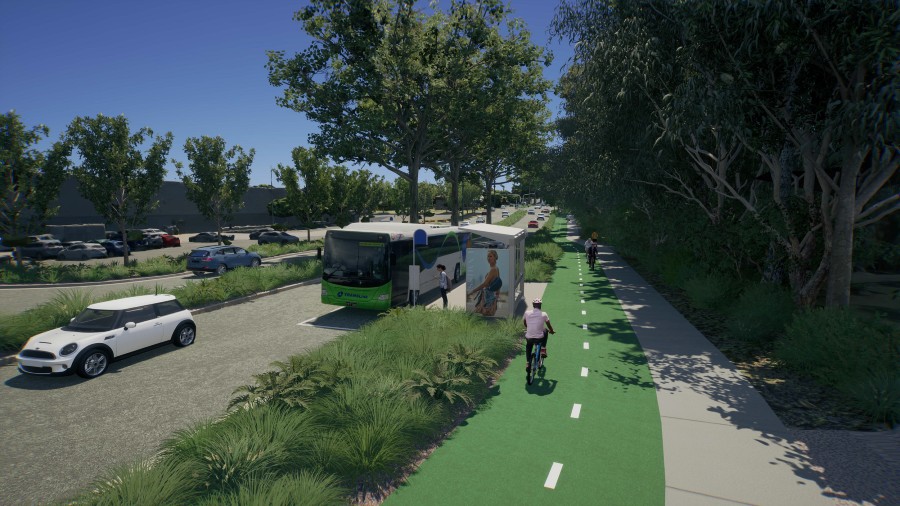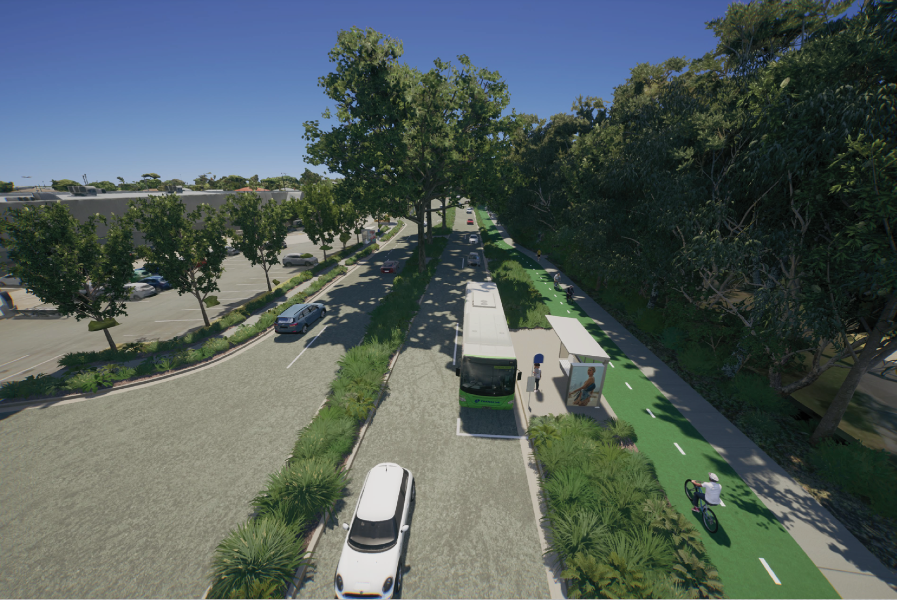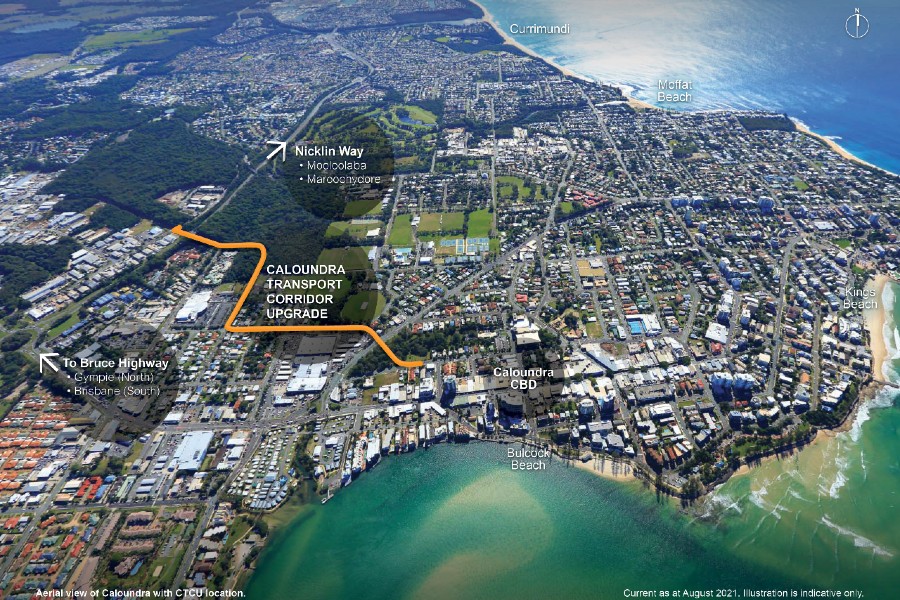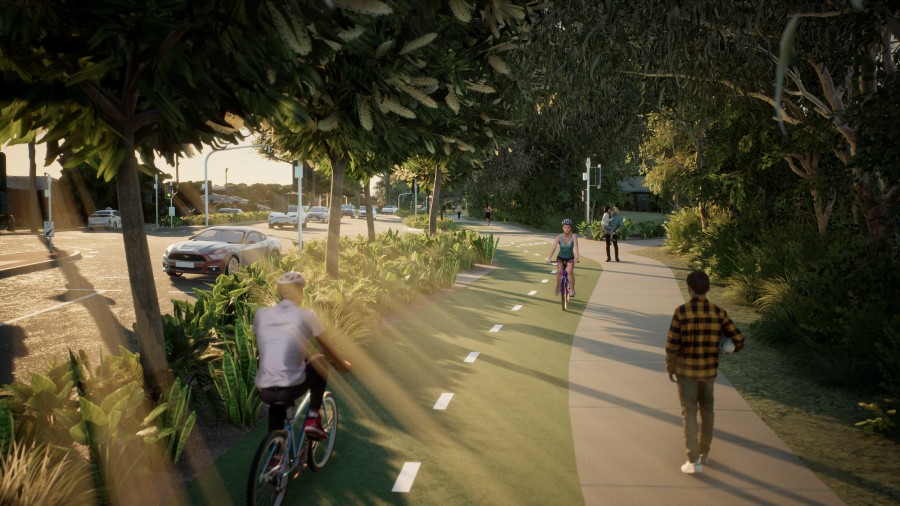 Project scope
The upgrade (PNG, 4844KB) is a high priority project for improving access into the Caloundra CBD and surrounding destinations. Planning and delivering alternative routes now is critical to help reduce traffic congestion and provide new walking and cycling pathways connecting our Caloundra community.
This project is also consistent with the community's vision to get people out of cars and into more sustainable modes of transport, including walking and cycling by providing a new separated two-way cycle track and pedestrian pathways. Without this upgrade, travel time, traffic congestion and access for active and public transport in Caloundra will continue to get worse as our community grows.
Watch these videos to view the transport modelling of this project:-
Video 1 - transport modelling showing traffic issues worsen if the project is not delivered
Video 2 - transport modelling showing the benefits of the project
Project sections
The new transport upgrade is made up of two sections - Section 1 and Section 2 (JPG, 178KB).
Section 1 will be delivered and funded by council to meet local growth and community needs. It is estimated to cost $19.6 million.
Section 2 is part of the $18.2 million upgrade to the Nicklin Way-Third Avenue Connection with the Australian Government committing $7 million under the Infrastructure Investment Program, the Queensland Government $7 million and Council $4.2 million.
The CTCU is a multi-staged project to be delivered over a number of years.
To see the detail of each section, please click on the FAQs.
Active transport
This upgrade aligns with the Sunshine Coast Active Transport Plan 2010-2031. Active transport helps deliver improved mobility, safer streets, healthier residents and reduced impact on global climate, all resulting in a world-class quality of life.
The upgrade will deliver:
Over 1.6 kilometre of two-way cycle track that creates a direct, pleasant and safe cycling environment to and from Caloundra's city centre for all levels of cyclists.
Signalised crossing facilities at six locations along the corridor improves the safety and amenity provided to pedestrians and cyclists.
Significantly improved community connectivity and safety by providing a safe crossing of Nicklin Way for pedestrians and cyclists mid-way between Queen Street and Caloundra Road.
Significant landscaping to improve the corridor's amenity and create a more enjoyable outdoor experience particularly for pedestrians and cyclists.
Where to from here
Community feedback gathered during community engagement on the 2021 CTCU concept design is being used to inform future stages of the project.
Following a public tender for detailed design, highly experienced engineering firm Aurecon is now engaged as the consultant to progress the next stage of the project. The consultant will continue to work with the project team to further refine the design of both sections.
As part of the detailed design process a stakeholder interest group (SIG) has been formed. The group will provide an opportunity for questions or concerns to be addressed by the project team. The SIG is another way the project team is working with the community.
An expression of interest to join the group was open for four weeks, between 15 August to 12 September 2022. For more information about the SIG and a list of members please visit TMR's Have Your Say page.
Project timeline
Steps completed
| | |
| --- | --- |
| | |
| 2000–2004 | Caloundra City Plan (including consultation) |
| 2013 | Caloundra Area Transport Study in partnership with TMR - including community engagement on potential transport option for Caloundra's future. |
| 2016 | Caloundra Centre Master Plan (including consultation and adopted by council in 2017) |
| 2018 | Sunshine Coast Council Local Government Infrastructure Plan (adopted by council in 2018) - including community engagement and a route options analysis. |
| 2019 | The Caloundra Corridor Transport Upgrade was again selected to progress. See the Transport corridor alignment map (PDF, 994KB) |
| 2021–2022 | Community feedback sought on concept design (PDF, 7.31MB) |
| 2022 | Detailed design tender awarder to Aurecon |
Steps in progress
| | |
| --- | --- |
| | |
| 2022 | Detailed design progressed |
| 2022 - 2023 | Stakeholder Interest Group (SIG) meetings conducted. |
Next steps*
| | |
| --- | --- |
| | |
| 2023 | Detailed design to be completed and shared with the community. |
| Late 2023–24 | Construction of section 1 and 2 (including early works) |
| Late 2025 | Completion and opening of the new transport corridor. |
* Weather and site conditions permitting.
More detailed construction timeframes and information will be provided closer to the construction commencing.
Project news and updates
Keep up to date on the project as it progresses by subscribing here for construction notifications and plan updates. You can also read through the frequently asked questions for more information.
Contact the project team
To contact the CTCU project team, email [email protected].
Frequently asked questions
Check below for answers to our most frequently asked questions or get in touch with the team if you can't find the answer you're looking for.
Keep up to date on the CTCU Project.