Single use and rechargeable batteries disposal
Recycle your single use and rechargeable batteries for free.
Sunshine Coast Council now accepts single use and rechargeable batteries for recycling. This is a free service.
As the amount of these types of batteries increases there is a need to offer more environmentally friendly options for disposal. While single use batteries can still be disposed of as general household waste in the general waste bin, we encourage you to choose the recycling option. Rechargeable batteries, however, cannot be disposed of in the general waste bin.
Why should you recycle your batteries?
The majority of Australia's battery waste is unfortunately still being sent to landfill creating fire and environmental risks. It is a growing waste item, increasing by 20 per cent each year and could exceed 100,000 tonnes by 2036.
In Australia currently only three per cent of battery waste is recycled. In Europe, 44 per cent of batteries sold are collected for recycling.
Batteries contain a variety of toxic metals which are particularly detrimental in landfill (lead, nickel, cadmium, nickel-metal hydride and mercury) and can seep through into the environment. They also contain valuable metals that may be recovered through recycling (such as cadmium, zinc, manganese, cobalt and rare earth metals).
Disposing of single use or rechargeable batteries
To recycle your batteries, simply drop them off, free of charge, at one of the following Resource Recovery Centres: Beerwah, Buderim, Caloundra or Nambour.
There are two main types of batteries that council accepts under this program:
Single use batteries (alkaline and button cell batteries accepted)
Rechargeable batteries (Lithium Ion, Nickel-Metal Hydride, Nickel Cadmium (dry), Nickel Cadmium (wet))
Please never place single use batteries in your recycling bin or garden waste bin as these would contaminate other recyclables or the mulch produced from garden waste.
Rechargeable batteries cannot be placed in the general waste, recycling, or in the garden waste bins.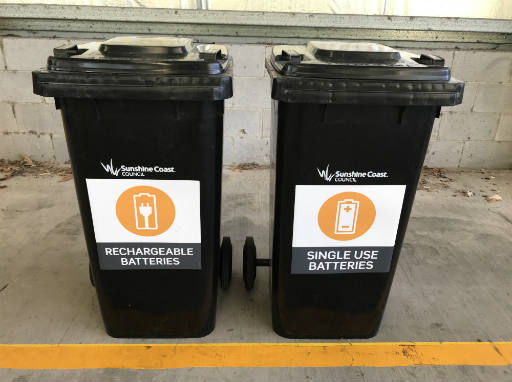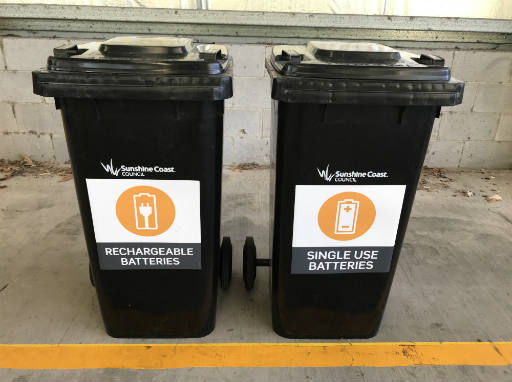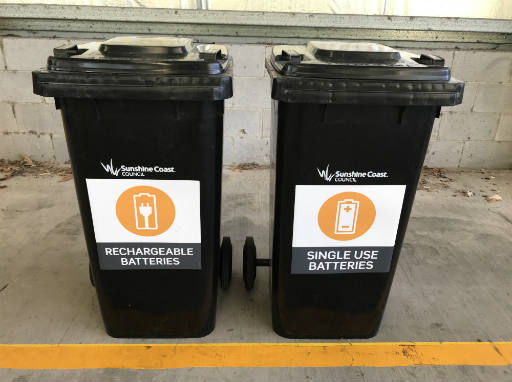 Visit the Australian Battery Recycling Initiative website to obtain more information about battery recycling.