Stormwater
It is important to maintain your stormwater drains and help prevent pollution, property damage and flooding. Find out what to do if you have a stormwater problem.
Stormwater run-off can be a common problem. It is important to maintain your stormwater drains. This helps prevent pollution, property damage and flooding.
It is best to communicate with your neighbours about any flooding problems you have. Often neighbours can work together to reach a resolution.
You should talk with your neighbour directly or seek independent advice if:
overland surface water flows between properties due to the natural slope of the land,
construction of a fence, wall or building causes water to dam rather than flow,
swimming pool water is overflowing onto your property, caused by rainfall,
a property built before 1976 is not connected to the stormwater system. Some of these properties still have pipes that empty onto the ground.
Installing field gully catchment pits or seepage drains can resolve water flow problems. They can prevent water pooling and direct it into the stormwater system.
Council may become involved if water is being concentrated and directed onto a neighbouring property. For example, where:
your neighbour has installed a down pipe that has an outlet near your property
an agricultural drain or seepage drain outlet causes water to flow across your property.
Where to go for help
speak to your neighbour first. Many people do not realise the problem is occurring and are happy to cooperate
seek advice from a licensed plumber and drain layer on the source of water and how best to resolve the problem
a solicitor can help with other aspects, like legal considerations between neighbours. This includes liability and damages.
If you and your neighbour cannot resolve the problem, the State Justice Department Dispute Resolution Centre can provide mediation without legal action.
As storm season approaches, it's a good time to check your property. Use our flood mapping and information to be prepared.
Report a stormwater issue.
For useful information on stormwater drainage issues associated with residential properties, refer to:
For useful information on stormwater drainage issues associated with residential properties, refer to:
Stormwater Queensland 2022 Awards for Excellence
WINNER - Excellence in policy and education
Sunshine Coast Council Construction Management and Waterway Protection Taskforce
HIGHLY COMMENDED - Excellence in strategic or master planning
Sunshine Coast Stormwater Management Strategy
Featured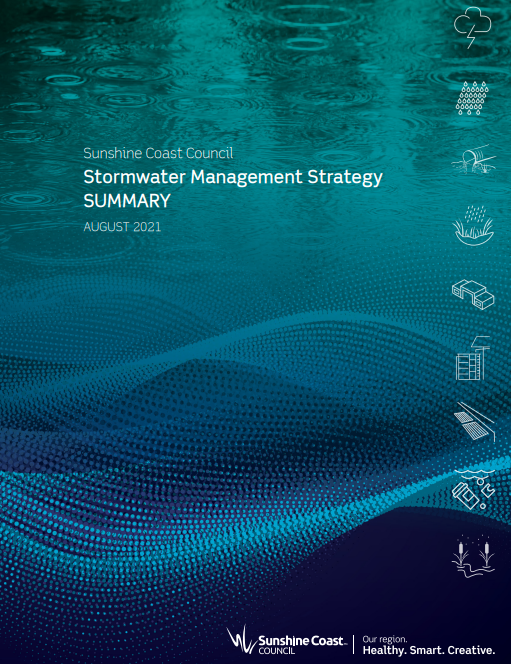 Sunshine Coast stormwater management strategy
Sunshine Coast stormwater management strategy