Get Involved
We are a turtle friendly community. Here's how you can get involved in the conservation of our nesting marine turtles.
Turtle conservation volunteers are highly trained citizen scientists who make an incredible contribution to the ongoing survival of marine turtles by monitoring nesting mothers, relocating nests if necessary for hatchling survival, and providing essential data to support the protection of these majestic animals.
There are three local groups who you can volunteer your time to depending on which beach you have access to:
Sunshine Beach to Mooloolaba: Coolum and North Shore Coast Care. More details here.
Buddina Beach to North Bribie Island: TurtleCare Sunshine Coast. More details below.
Bribie Island – Bribie Island Turtle Trackers. More details here.
TurtleCare Sunshine Coast
TurtleCare Sunshine Coast is a community-based citizen science program for the monitoring and protection of nesting marine turtles from Buddina beach to North Bribie Island. The program is coordinated through Sunshine Coast Council, in partnership with the Queensland Government Department of Environment and Science.
Our volunteer group is made up of local residents who have access to the above nesting beaches and can commit to an ongoing weekly roster for five months over summer.
We invite people of all ages to get involved but please note children under 18 need to sign up with a parent or guardian.
All TurtleCare activities are conducted under Queensland Turtle Conservation Project permits.
Turtle season timeline
September

New volunteer information session

Register your interest before 1 September to be invited to the new volunteer information session.

November

Turtle season begins

Rostered volunteers walk the beach each morning at first light to check for turtle tracks.

If tracks are found, the nest is protected with predator exclusion meshing.

Volunteers keep a close eye on nest throughout the incubation period and may relocate nests to protect the eggs if necessary.

Approximately 2-3 months later (around February)
Volunteers watch the nest for the hatchlings to emerge and monitor the success of clutches.
April - approximate

Turtle season ends

Rostered walks end when the last nest hatches.
Current TurtleCare Volunteers login access
Login details for the volunteer management database
Sponsorship
Are you interested in sponsoring TurtleCare Sunshine Coast? Email [email protected]
Friends of TurtleCare
Friends of TurtleCare are the people who are interested in turtle conservation and want to keep in touch with what TurtleCare and other conservation groups are doing to support marine turtle population recovery on the Sunshine Coast.
Sign up to receive a monthly e-newsletter during the turtle season.
Turtle events
Clean Up for the Hatchlings – usually held in late January / early February
This is an annual free event run by the Sunshine Coast Council in partnership with Reef Check Australia, Unitywater, SeaLife Sunshine Coast and the Noosa Council.
It inspires the whole community to come together and clean up local beaches ready for the hatchling turtles.
Turtle education
Council and its TurtleCare program offer education and engagement opportunities for schools, events and community.
Be turtle and wildlife friendly everyday
We are a turtle friendly community and here are some actions you can do at home to support turtle conservation:
Report turtle tracks, new nests and emerging hatchlings to our Turtle Care hotline or Coolum and North Shore Coast Care.
Switch off your outside lights from 8pm as light pollution is distracting for turtles and hatchlings
Make sure you take your rubbish with you from the beach so the turtles have a clean environment to lay their eggs in.
Stay on the right track and use the authorised beach access to reach the ocean to protect turtle nesting habitat.
Becoming a TurtleCare volunteer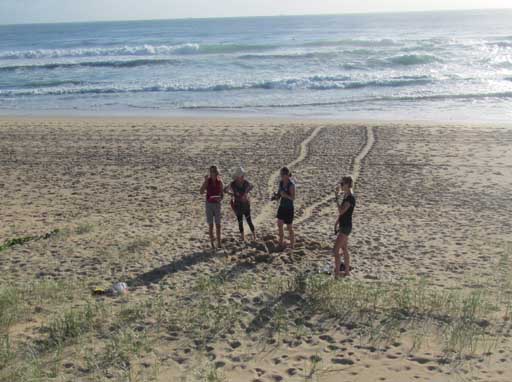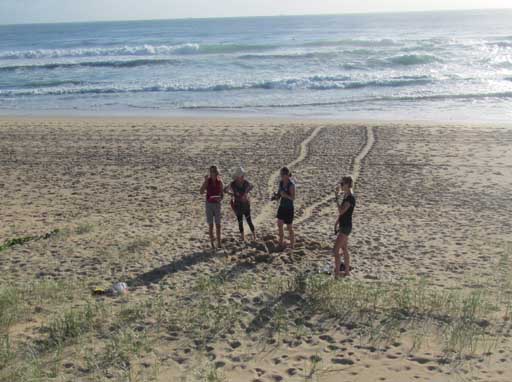 Information for TurtleCare volunteers and links to the volunteer management database.