Intelligent communities forum
The Sunshine Coast has been recognised again as one of the top 7 intelligent communities.
Sunshine Coast Council has worked with more than 45 organisations and individuals across the region to present compelling award submissions in 2019, 2020 and 2022 - all resulting in the region being named by the intelligent community forum (ICF) as a top 7 intelligent community across the globe.
Being a top 7 intelligent community is a significant recognition of council's long-term strategy delivered in partnership with the community, education and industry leaders over many years.
In September 2022, the Sunshine Coast hosted a 2-day virtual visit by the ICF judges as the next stage of the awards program to determine the 2022 intelligent community of the year. The winner will be announced at the ICF's global summit in Dublin, Ohio, USA on 27 October.
The virtual visit involved local students, community groups, business owners and industry groups to highlight the collaborative relationships we have here on the coast and the amazing talent and skills available.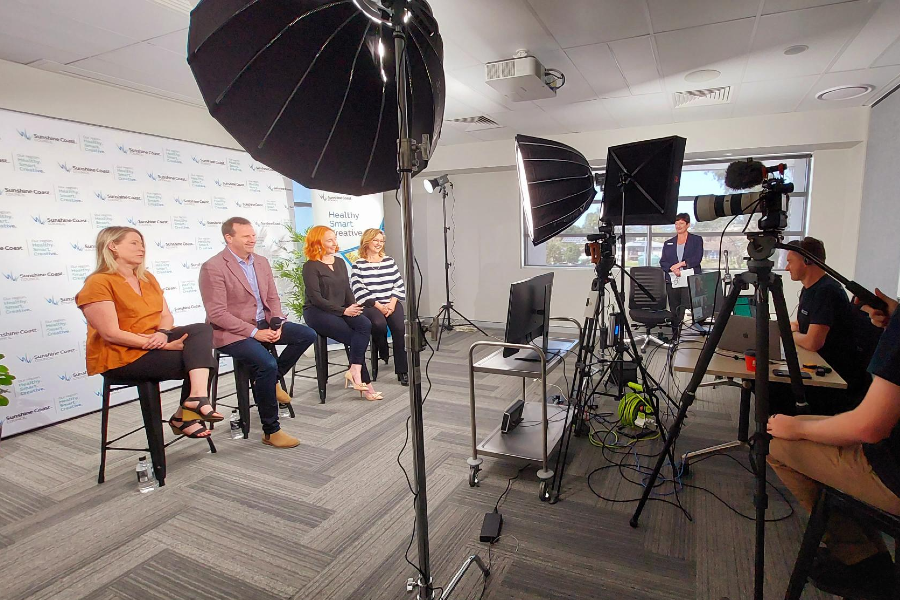 Mayor Mark Jamieson said the accolade benchmarked the Sunshine Coast against cities, provinces and regions from across the globe against the 6 focus areas of broadband, knowledge workforce, innovation, digital inclusion, engagement and sustainability which were essential to developing intelligent communities.
"Being recognised as a top 7 intelligent community for 2019, 2020 and 2022 acknowledges how our collaborative programs and initiatives exemplify best practice when compared with those of other locations within the international community," Mayor Jamieson said.
"Participating in the awards program has given us the opportunity to showcase the Sunshine Coast, and everything it has to offer, to a global audience.
"It also reinforces the work to position the Sunshine Coast as an ideal location for the businesses and industries in the digital age, which deliver enduring employment opportunities that are in demand and are less susceptible to global fluctuations.
"This is a key objective of our Sunshine Coast regional economic development strategy 2013-2033 and is particularly important as our region seeks to rebuild in the wake of the COVID-19 pandemic," Mayor Jamieson said.
Sunshine Coast - intelligent community
Sunshine Coast - intelligent community June 2019
The top 7 finalists for 2022 (in alphabetical order)
Binh Duong Smart City, Vietnam
Curitiba, Parana, Brazil
Regional Municipality of Durham, Ontario, Canada
Fredericton, New Brunswick, Canada
New Taipei City, Taiwan
Prospect, South Australia, Australia.
Sunshine Coast - intelligent community awards
2022 - Top 7 and Smart 21
2021 - Smart 21
2020 – Top 7 and Smart 21
2019 – Top 7 and Smart 21
2018 – Smart 21
2017 – Smart 21
2015 – Smart 21
2014 – Smart 21
Sharing our COVID-19 learnings with the world
The Sunshine Coast continues to collaborate internationally, with Mayor Mark Jamieson participating in an online interview on 28 April 2020 about our region's response to COVID-19. Speaking with ICF co-founder Lou Zacharilla, Mayor Jamieson explains the role of our Disaster Management Group, supporting the community through programs such as COVID kindness and online resources for businesses.
The video interview is part of an ICF series with leaders of intelligent communities about how their communities are being engaged and informed during this pandemic and sharing their learnings with others around the world.
No place but home - Sunshine Coast
Our intelligent community journey
Council, together with innovative businesses, educational institutions and community groups have been delivering successful region-wide programs and initiatives across the awards' six Intelligent Community indicators, summarised in the links below:
broadband: encouraging deployment and adoption, and deploying our own networks where necessary
knowledge workforce: creating economic value through knowledge, skills and ability to use information effectively
innovation: creating a culture that engages the entire community in positive change
digital inclusion: providing access to digital technology and connectivity, and offering digital skills training
engagement: building a common understanding of the challenges facing the community and a shared vision for overcoming them
sustainability: improving the quality of life for our community.
From smart city to intelligent community ICF Sunshine Coast
From smart city to intelligent community ICF Sunshine Coast April 2019
Objectives
Each year, the ICF presents this awards program for intelligent communities and the public-sector and private-sector partners who contribute to them. It provides communities with a platform for attracting international attention, stimulating inward investment and building public support for progress.
Gaining a place among the year's smart 21 is considered a badge of honour as well as the first step to greater recognition as an intelligent community positioned to prosper in the broadband economy.
The top 7 communities represent models of economic and social transformation in the 21st century. Each exemplifies best practices in broadband deployment and use, workforce development, innovation, digital inclusion and advocacy that offer lessons to regions, cities, towns and villages around the world.
The intelligent community of the year is named on the closing day of the global summit in June of each year.