Events, activities, and programs
Find information about events, activities and programs for people with lived experience of disability.
Disability Action Week 2023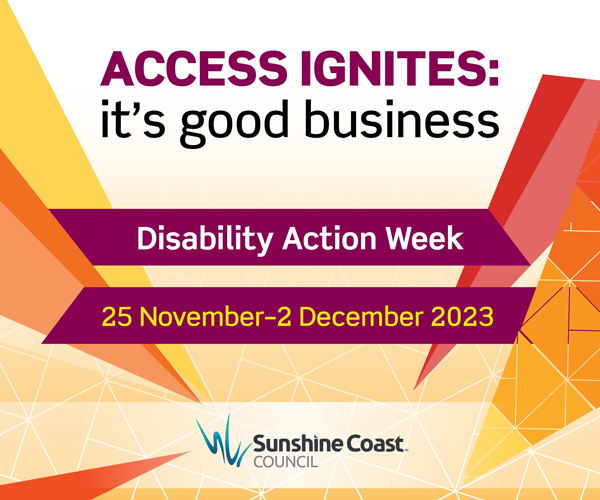 This year Disability Action week will be from 25th November to 2nd December.
The week acknowledges the important and varied contributions people living with a disability make to our state.
The aim is to:
Raise awareness of how people can play a role in creating an all-abilities Queensland.
Empower people with disability.
Develop a shared understanding of disability issues.
Improve access and inclusion throughout the wider community.
Please see below some of the events/activities taking place across the Sunshine Coast.
**Please note The Access Ignites: Panel Event due to take place on the 24th of November has been postponed.
A new date will be advertised in due course**
More information can also be found under The Regional Guide for Disability Action Week along with an Easy read version.
Event/activities
Enter the Accessible Sunshine Coast Photo Competition
We know that not everywhere in this wonderful region is accessible and/or inclusive however, there are places throughout the region where everybody can anticipate or visit and share experiences with their family and friends. This competition is an opportunity to celebrate and promote those places and the people who enjoy them. Council is holding its first Accessible Sunshine Coast Photo Competition. We're asking residents with lived experience of disability to capture and share their photographs and short stories of accessible and inclusive places from across our region for their chance to win a $200 voucher for Australia Zoo!
Photos must be taken between the (27/10/23 – 27/11/23)
Photos can be taken anywhere throughout the Sunshine Coast Local Government area.
Upload your photograph and story to the Have your say webpage
Winner will be announced on Friday 1st December at the All Access Day at the Beach.
All Access Day at the Beach
This year the event is being held on Friday 1st December, in Disability Action Week.
A program of activities has been planned and will run from 2pm to 6:30pm.
Come on down to Mooloolaba Beach and have some fun in the sun.
Click here for map and full program.

International Day of People with Disability
International Day of People with Disability is held on 3 December each year. Visit the website to find out about events celebrating this day.
Other programs and activities you can join
Healthy Sunshine Coast is a holistic low-cost community program for all fitness levels. The program aims to help you move well, eat well, sleep well, think well and connect well and includes activities for all-abilities.
Aquatic Centres and Pools have ramps and/or hoist access and heated pools across the network.
Accessible Beaches Program provides beach matting, wheelchairs and life jackets at participating locations.