Coastal hazard adaptation strategy (CHAS)
Council's strategy to help manage the impacts of coastal hazards on our region.
At its ordinary meeting on 27 May 2021, council adopted the coastal hazard adaptation strategy.
Purpose
This long-term strategy helps to manage the impacts of coastal hazards. Coastal hazards include:
erosion of our beaches
short or long-term seawater inundation of land due to storm surges
expanding tidal areas due to sea level rise.
The coastal hazard adaptation strategy is a key transformational action of council's environment and liveability strategy.
Overview
The Sunshine Coast is a highly desirable place to live, work and play. Our coastal environments, including our headlands, estuaries and beaches, contribute to this strong reputation and identity.
Whether rapid or gradual, change is a fact of life on the Sunshine Coast, as it is across the globe. As we grow, responding to coastal hazards is one of the many challenges that needs to be planned for. This will help us deliver a healthy environment and liveable Sunshine Coast now and over the longer term.
Our Resilient Coast. Our Future, is the program created by council to guide the development and implementation of council's coastal hazard adaptation strategy.
This strategy is a regional risk assessment and change management initiative to better prepare council and the community to proactively respond to, and mitigate (and where required, adapt to) risks associated with coastal hazards.
The strategy consists of 3 parts:
1. Part A – coastal hazard adaptation (PDF, 16826KB)
2. Part B – coastal hazard maps and supporting information (PDF, 16881KB)
3. Part C – five-year implementation plan (PDF, 14189KB).
Community engagement
We delivered an extensive engagement program over 2019 and 2020 with our community and key stakeholders. Feedback received informed the direction of technical assessments and development of the adaptation options and pathways in the strategy.
Background
See how the coastal hazard risk for our local government area could change over time - view our updated coastal hazard maps. Maps are provided for present day, 2041, 2070 and 2100 for the 3 coastal hazards of open coast erosion, expanding tidal areas and storm tide inundation.
Note: The coastal hazard mapping undertaken for council's coastal hazard adaptation strategy will be referenced by the state government following appropriate state approval processes. Until that time, the current state government declared coastal hazard mapping applies to development.
Contacts
For more information, please send your inquiry to [email protected].
Becoming a well-adapted and resilient community is a long-term plan that requires ongoing effort by everyone in our community. We look forward to working together as we continue the adaptation journey.
An introduction to the Sunshine Coast coastal hazard adaptation strategy
Featured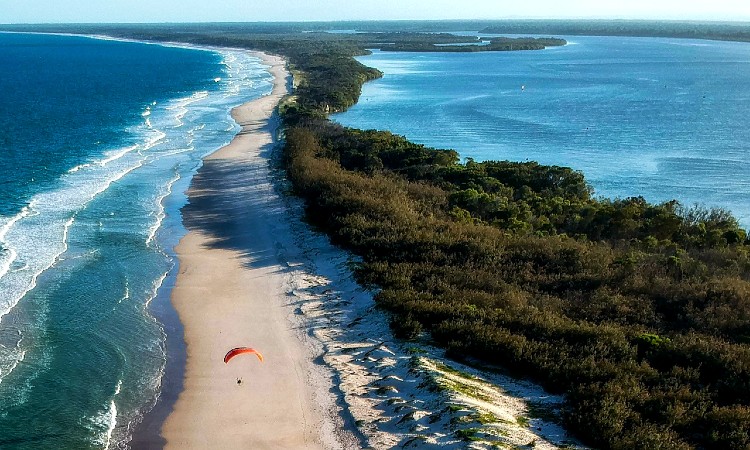 Bribie Island breakthrough action plan
Bribie Island breakthrough action plan