Trial begins for first autonomous flying-fox cooling technology
An innovative new misting system could be the answer to saving threatened species including flying-foxes from heat stress.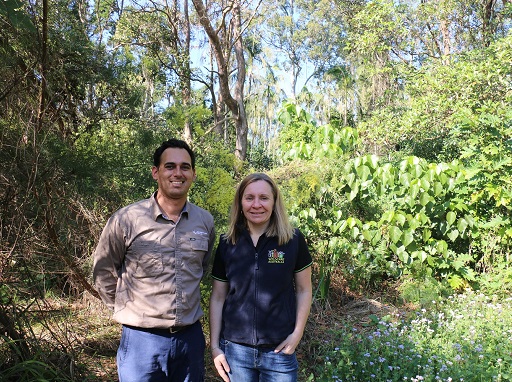 An innovative new misting system could be the answer to saving threatened species including flying-foxes from heat stress.
Sunshine Coast Council officers yesterday (July 31) installed a new flying-fox Heat Stress Autonomous Response Unit which will be trialled over the coming summer season, and could be implemented across Australia.
This trial technology is a first for Queensland and was designed in partnership with flying-fox heat stress advisors, Nambour-based contractor Aqua-Power, Buderim-based AllSpice Technologies, and council's technology architects and conservation officer, Tyron de Kauwe.
"This is a completely automated, autonomous system that council has proudly developed in partnership with a few Sunshine Coast businesses and researchers," Mr de Kauwe said.
"The unit uses solar-powered, Wi-Fi-connected misting technology to cool down bats in the event of a dangerous heat wave.
"We had guidance from local flying-fox heat stress advisors, Rachel Lyons, who is a trauma carer with Wildlife Australia, and Sunshine Coast wildlife veterinarian Dr Tania Bishop.
"They have helped us understand how best to integrate the heat stress unit within the flying-fox roost.
"Together, Ms Lyons and Dr Bishop are investigating whether this type of technology is an effective way to mitigate heat stress in flying-foxes. We look forward to sharing the results of this trial."
The historic maternity roost in Landsborough was selected as the trial site following devastating effects of a 2014 heat wave.
"Flying foxes play a critical role in maintaining Sunshine Coast native forest ecosystems," Mr de Kauwe said.
"The Sunshine Coast's natural environment is one of our most important assets and is highly valued by council and our community.
"Protecting, maintaining and enhancing our environment is a key priority for council. It is also an important element of the liveability of our community as well as the success of our economy," he said.
This technology was developed in response to the recent extreme heat wave in Cairns last summer which resulted in the deaths of more than 23,000 spectacled flying foxes, equating to a loss of nearly one-third of the species in Australia.
Flying-foxes are particularly important as nocturnal, long-distance pollinators for many Australian eucalypt species that can only be pollinated at night.
Council conservation officers anticipate the animals will not be too disturbed by the system, but rather, they will enjoy the cooling off.
Funding for this initial research and trial project comes from council's Environment Levy as part of flying-fox research and education.
Council is now looking to partner with researchers and the Queensland Government.
Following the trial, council will investigate the opportunity to install additional heat stress units at other known roosting sites in anticipation of another warm summer.
Image: Tyron de Kauwe and Rachel Lyons onsite at the Landsborough flying-fox roost.