How unique 'fauna fence' will protect wildlife
A line of discreet green posts has been dotted along a local road to help save wildlife and improve the safety of motorists.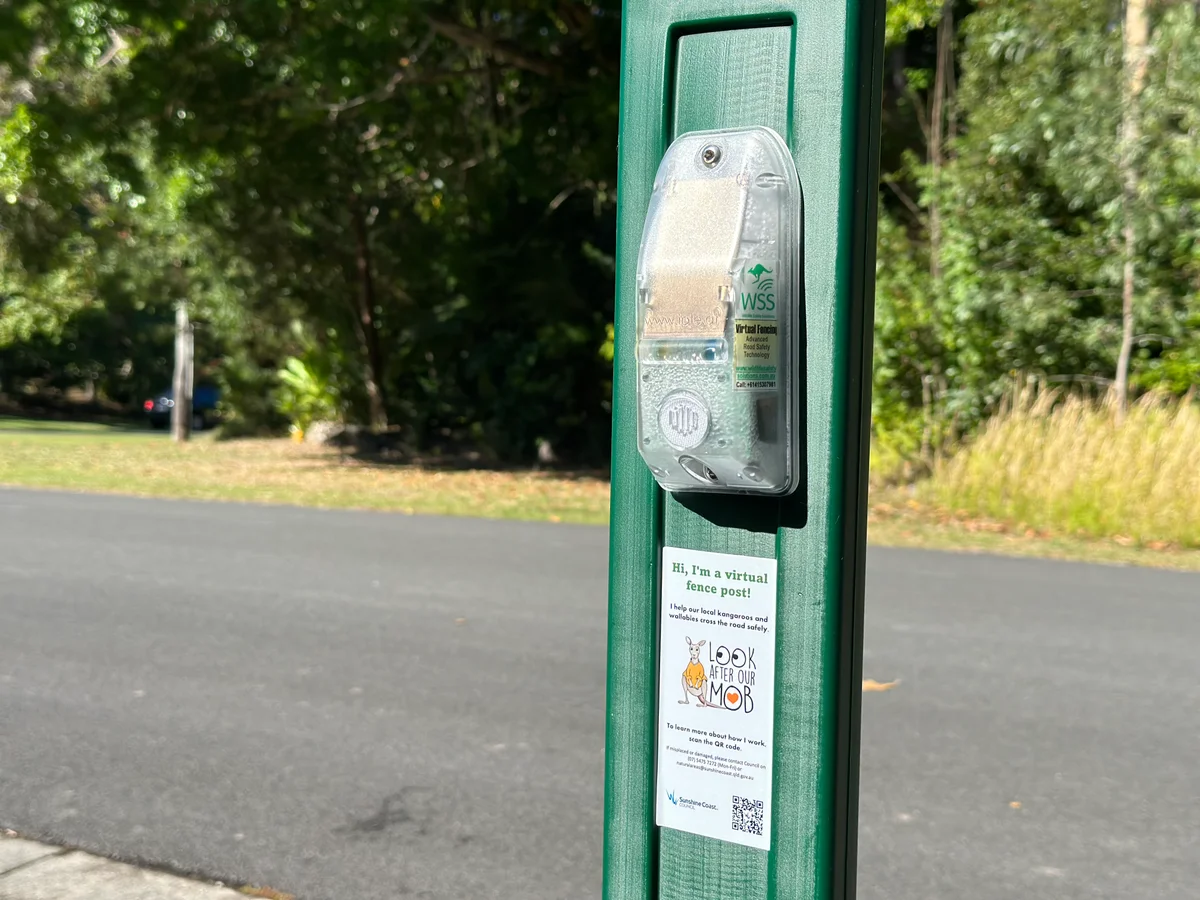 A line of discreet green posts has been dotted along a local road to help save wildlife and improve the safety of motorists.
These 100 posts combine on Ninderry Road, Ninderry, to make a unique and low-impact wildlife deterrent called a 'virtual fauna fence'.
Each post is equipped with a special device that detects the light from oncoming headlights and emits a low sound to warn wildlife of approaching traffic.
The sound holds the animal's attention long enough for them to pause before crossing the road with the aim to reduce the number of car and wildlife collisions.
Sunshine Coast Division 10 Councillor David Law said the new fence was designed to provide improved safety for wildlife and motorists.
"This is a great outcome for our local kangaroos and wallabies and the safety of our community," Cr Law said.
"Council is also calling on residents to take care on the roads and keep dogs away from wildlife.
"Many of the roadkill incidents that occur during the day are caused by domestic dogs chasing kangaroos and wallabies at a time when they are not usually on the move."
Kangaroos and wallabies generally don't move around a lot during the day because they are sensitive to overheating and dehydration. They stick to the shady areas and limit movement until it gets dark.
This means most incidents happen during dawn and dusk when the animals are most active which also coincides with times of poor visibility for drivers.
The fence is designed to work at these times and during the evening as it needs to be triggered from car headlights.
The virtual fence isn't effective when the cars are travelling over 90km/h , so drivers need to stick to the speed limit.
A proven safeguard for wildlife
These fences have been tested and proven effective to stop wildlife crossing roads when traffic is passing – but it's difficult to get data of the number of animals they do stop.
However, in other locations where fences have been installed across the Sunshine Coast there has been no reported roadkill during the time when the fence is intended to work.
The virtual fauna fencing also allows natural migration and movement to feeding and breeding grounds for native animals, maintaining the genetic flow across the region to ensure healthy populations.
Sunshine Coast Environment and Liveability Portfolio Councillor Maria Suarez said Council aimed to protect macropods where it is in our control.
"Like us, macropods are widespread and highly mobile – their home is now also our home, and our community is growing,'' Cr Suarez said
"It's no surprise that this brings challenges to their survival however together, we can live in a wildlife friendly biosphere thanks to projects like this and the Sunshine Coast Macropod Conservation Plan."
The technology is being trialled at three other sites across the Sunshine Coast at Sippy Downs Dr, Sippy Downs, Nojoor Rd, Mudjimba and Sugar Bag Rd and Sunset Dr, Little Mountain.
---
This article How unique 'fauna fence' will protect wildlife has been supplied from the OurSC website and has been published here with permission.