Crucial next steps for beachfront 'jewel'
A popular beachfront is about to gain enhanced protection from increasing climate change risks and impacts as it undergoes the next stage of its revitalisation.
A popular beachfront is about to gain enhanced protection from increasing climate change risks and impacts as it undergoes the next stage of its revitalisation.
Following the completion of the award-winning Mooloolaba Foreshore Revitalisation Northern Parklands, the detailed design for Stage 2 – the Central Meeting Place and southern seawall – has now been finalised.
Council is calling for expressions of interest to construct the new parkland - which received overwhelming community support during recent consultation - and to replace a seawall that dates back to the 1960s.
The ageing vertical seawall has protected the foreshore from the majority of severe weather events for 50 years, but it will not be sufficient to safeguard the community from rising sea levels and more extreme weather events into the future.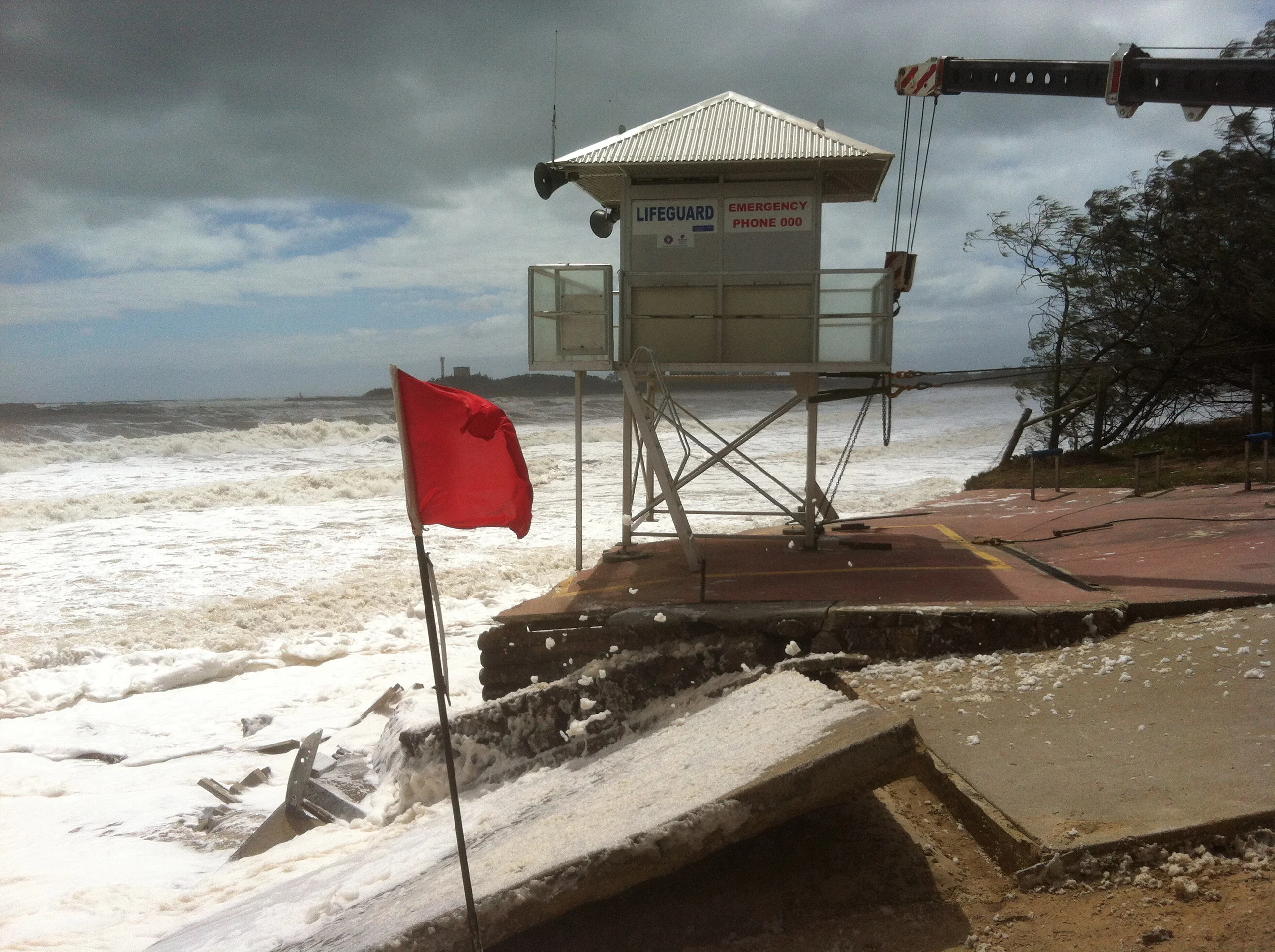 Assisted by a $7.95 million contribution through the Federal Government's National Emergency Management Agency Disaster Ready Fund, it will be replaced with a new terraced seawall that will underpin the foreshore, which is undergoing a multimillion-dollar transformation.
The new seawall will be approximately 290 metres long and stretch between the surf lifesaving tower ramp and the pedestrian crossing opposite Mantra Sirocco. It will be half a metre higher than the existing wall which is 5m at its highest point.
The key piece of infrastructure will better protect the community parklands, paths, roads and underground services such as power, telecommunications and water supply from climate change impacts and provide improved access from the foreshore to the beach.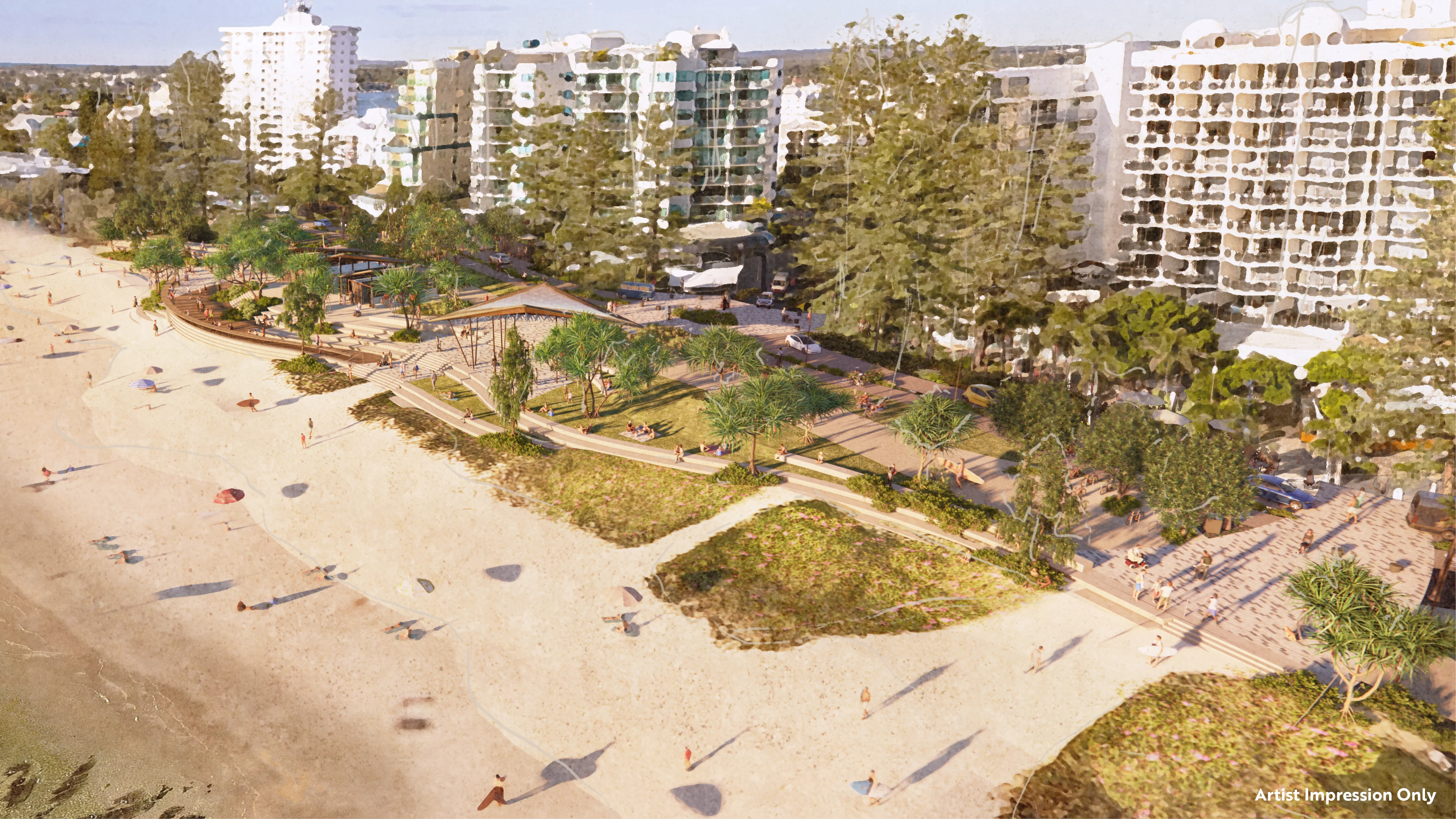 What happens next?
Once Expressions of Interest are considered, tenders will be invited. The construction timeline will then be determined with essential input from expert contractors.
Council anticipates early works could begin next year.
The Central Meeting Place will encompass 6,500 square metres of beachfront parkland near the Brisbane Road entry point to Mooloolaba Esplanade.
It will feature a new shaded event and meeting space, open grassed areas, viewing deck, new beach showers and toilets including a 'Changing Places' facility for people with high support needs, landscaping, public artwork, a new coastal pathway, and a terraced seawall with wide steps which double as beachside seating with plants and shade trees.
The Central Meeting Place will also include a full accessibility ramp to the beach.
A world-class foreshore
Sunshine Coast Council Environment and Liveability Portfolio Councillor Peter Cox said this was a once-in-a-lifetime, legacy project which would see Mooloolaba further elevated on the world stage and protected well into the future.
"Mooloolaba is renowned as a great place to live as well as being recognised as one of Queensland's most sought-after holiday destinations," Cr Cox said.
"This next stage of the foreshore's revitalisation represents a multimillion-dollar investment by Council and the Federal Government in Mooloolaba's future.
"It is crucial we complete this vital project as soon as practical to benefit residents, businesses and visitors and to make it as cost effective and streamlined as possible.
"It is also important to achieve the improvements well ahead of the Brisbane 2032 Olympic and Paralympic Games when the Sunshine Coast will host the marathon, race walk, road cycling, football, mountain biking, basketball and kiteboarding, many being held in close proximity to Mooloolaba.
"The world's eyes will be upon us."
The Central Meeting Place will also improve accessibility to the foreshore and beach, particularly for people with disabilities.
"We've seen how our community has warmly embraced the Northern Parkland as well as the economic benefits it has brought to businesses and expect this next stage to do the same.
"The Central Meeting Place will complement that experience and is another important piece in achieving the outcomes of the Mooloolaba Foreshore Revitalisation Project - an evolving jewel in Mooloolaba's crown.
"When all stages are complete the overall Foreshore Revitalisation project will create more useable public beachfront parkland and enhanced access to the beach – providing significant social, economic, environmental, and cultural benefits for locals, visitors and the broader Sunshine Coast region."
A seawall for all seasons
Liveability and Natural Assets Group Executive Bill Haddrill said a seawall had protected Mooloolaba since the 1960s.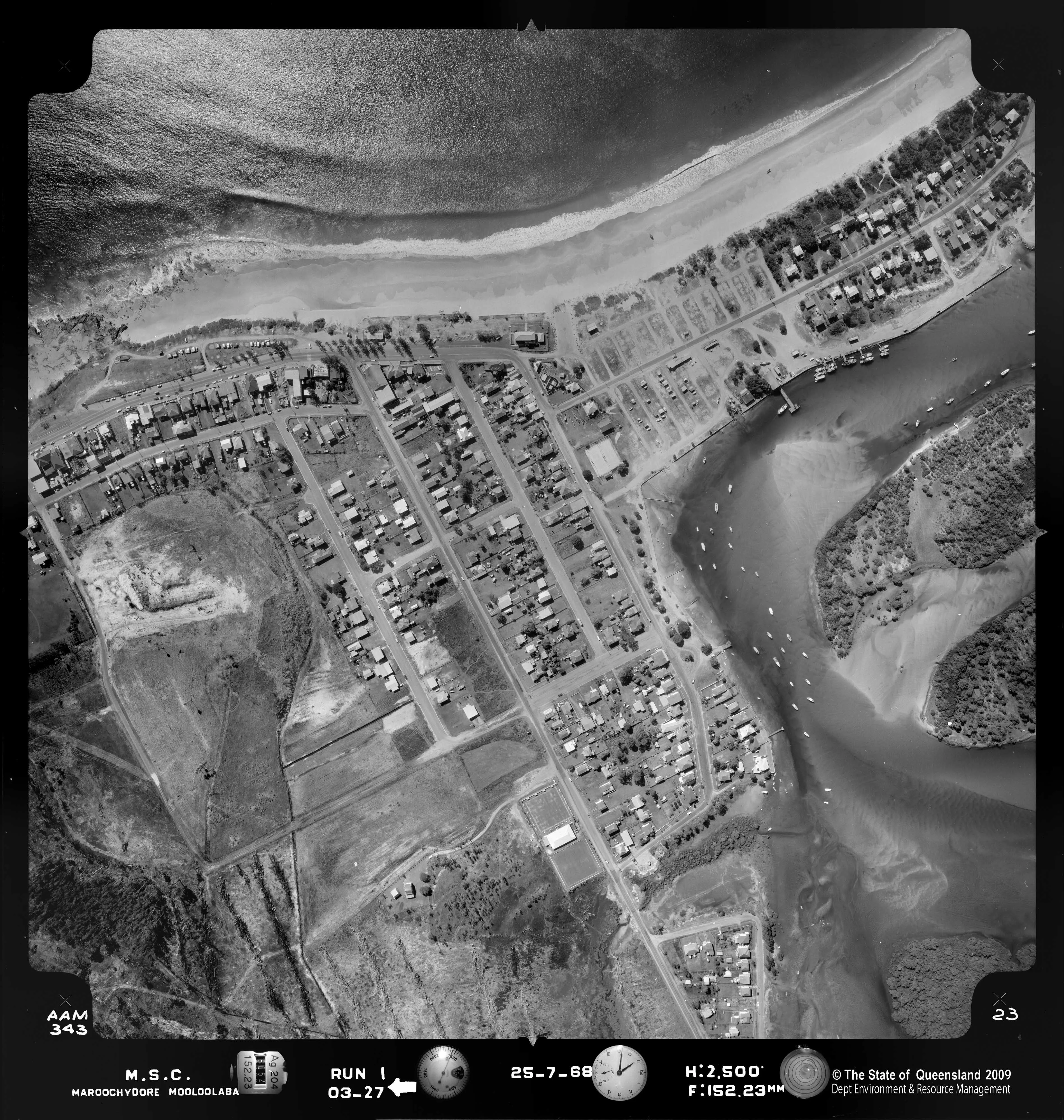 Mr Haddrill said the Council of the time and community had understood the importance of protecting the foreshore which was central to our Sunshine Coast lifestyle.
"Now we need to step up this protection as climate change increases the risks and impacts of extreme weather events and the current design is no longer sufficient.
"Council's 2021 Coastal Hazard Adaptation Strategy and Shoreline Erosion Management Plan signify that areas of Mooloolaba's foreshore public land, transport infrastructure, and underground services are at significant risk of rising sea levels, cyclones, coastal erosion, storm surges and coastal inundation.
"That's why Council applied for and successfully secured a $7.95 million contribution through the Federal Government's National Emergency Management Agency, Disaster Ready Fund, to replace Mooloolaba's seawall.
"The 50% federal funding contribution will minimise the cost to ratepayers to replace the 1960s-built seawall.
"It has been cleverly designed to provide wide terraced steps that will double as community seating for watching the waves or attending major Mooloolaba events such as New Year's Eve celebrations, festivals, the ANZAC Day service and beach sports like volleyball and rugby.
"It also will include a new easy-access ramp to the beach, the first of its kind on the Sunshine Coast.''
Mr Haddrill said once a contractor was appointed and the construction scheduling was known, Council's team would work with the Mooloolaba Surf Club and local community and business groups to help them prepare for the construction phase.
How to stay informed
For more information and to subscribe to project news and updates via email visit sunshinecoast.qld.gov.au/mfr.
---
This article Crucial next steps for beachfront 'jewel' has been supplied from the OurSC website and has been published here with permission.