'A plan for everyone' improves inclusion for all
With more than 21,000 residents on the Sunshine Coast having a severe disability, Sunshine Coast Council has committed to delivering an innovative action plan that's designed to improve access and inclusion for all.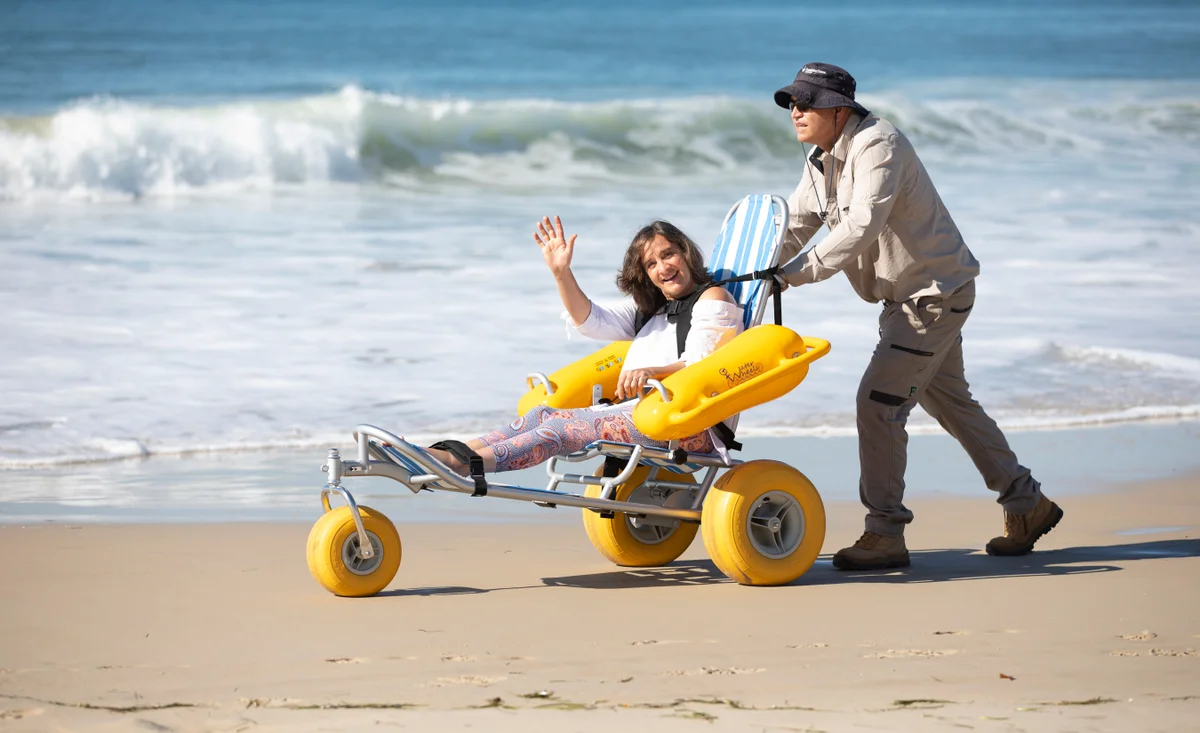 With more than 21,000 residents on the Sunshine Coast having a severe disability, Sunshine Coast Council has committed to delivering an innovative action plan that's designed to improve access and inclusion for all.
The Sunshine Coast All Abilities Action Plan 2024-2028 outlines detailed actions Council will undertake over the next five years to improve inclusion for people with disability.
The measures are practical and achievable and include enhancing physical accessibility in public spaces, fostering broader social inclusion and breaking down barriers to employment.
Sunshine Coast Council Mayor Mark Jamieson said inclusion was critical to building a strong community where everyone felt valued, could participate in all aspects of community life and reach their potential.
"This Plan helps to create a more inclusive region where everyone can participate equally, contribute fully and feel respected and valued, with a strong sense of belonging," Mayor Jamieson said.
"Unfortunately, conscious or unconscious discrimination is one of the many challenges people with disability face in their day-to-day lives.
"We have the opportunity now to expand on the great work already being done to ensure people of all abilities have equitable opportunities to live, work, visit and play in our beautiful region.
"There are many Council achievements to date that improve inclusion for people with disability, including Council's award winning mobility maps program.
"I'm pleased to see more locations were mapped during 2023 – The Year of Accessible Tourism in Queensland – which included Maroochydore to Mooloolaba, Buddina, Kawana, Birtinya (hospital and stadium precincts), Currimundi, Caloundra, Nambour and Maleny. With plans for further areas to be mapped in 2024.
"We are proud of the work Council is doing in this area and recognise there is always more that can be done.
"We thank everyone who participated in the engagement process to create this action plan to advance inclusion in our region."
The action plan was developed through extensive community engagement, with particular focus on connecting with people with disability, carers and support workers.
A reference group, made up of people with lived experience of disability was fundamental in the developing the action plan.
All Abilities Action Plan Reference Group member Dane Cross said our voices, experiences, and narratives have breathed life, depth and authenticity into the action plan.
"On behalf of the group I wish to express our collective gratitude and pride in contributing to this important strategic initiative," Mr Cross said.
"We shared our stories, exchanged insights, and collectively envisioned a Sunshine Coast where inclusion, accessibility and equality are not ideals but realities.
"We are optimistic about what the future holds. This action plan is more than a document; it is a commitment to making real change."
Sunshine Coast resident Payge Hollis struggled to find a job after leaving school and felt the word 'disability' was a barrier for potential employers.
"I started to fill in my time with other activities that I enjoyed and began to make some friends to build on my social skills and my community connections," Ms Hollis said.
"These connections led to not one but two job interview opportunities. I'm proud to say that I was successful with both and now hold two paid part-time jobs.
"Working has given me a sense of freedom and independence. I want people to know that everyone is employable. People with disabilities have so many abilities - we are worth it."
This reference group also decided on the name, All Abilities Action Plan, to reflect their view that this is a plan for everyone in our community to increase awareness and improve inclusion.
View the All Abilities Action Plan on Council's website.
The All Abilities Action Plan is structured around the following four principles and five priority areas.
Guiding Principles and Commitments:
Increasing disability awareness
Promoting and protecting human rights
Removing access barriers
Valuing lived experience.
Priority Areas for Action:
Awareness and education
Built environment and public spaces
Employment and training
Events and programs
Participation and communication.
Achievements to date:
719 out of 730 (98%) of bus stops are now DDA compliant.
11,203 passengers travelled a total of 59,924km using the Council Link service.
Pool hoists now available at all nine aquatic centres, and pool wheelchairs will be available at all centres soon (wheelchair to be provided at Kawana Aquatic Centre as part of upgrade works).
All abilities exercise classes included as part of the Healthy Sunshine Coast program.
Mobility mapping of accessibility features across multiple areas of the region making the Sunshine Coast the most mapped local government area in Australia.
Council's corporate website WCAG1 upgraded for greater accessibility.
What are mobility maps?
This clever project makes it easier for people of all abilities to get out and enjoy the Sunshine Coast way of life and has been expanding across the Coast since starting in 2022 as a trial project. It is now a shining example of accessible tourism opportunities.
Specially trained "pilots", backed by advanced technology, tracked some of our busiest routes, providing accessibility mapping for those living with a disability, using wheelchairs or using mobility aids to help plan their routes.
To access the mobility maps please visit Council's Mobility mapping website. For more information about access, inclusion and disability visit Council's website.
---
This article 'A plan for everyone' improves inclusion for all has been supplied from the OurSC website and has been published here with permission.