Solar farm overview
Council is Australia's first local government to offset its entire electricity consumption from renewable energy generated at the 15MW Sunshine Coast Solar farm.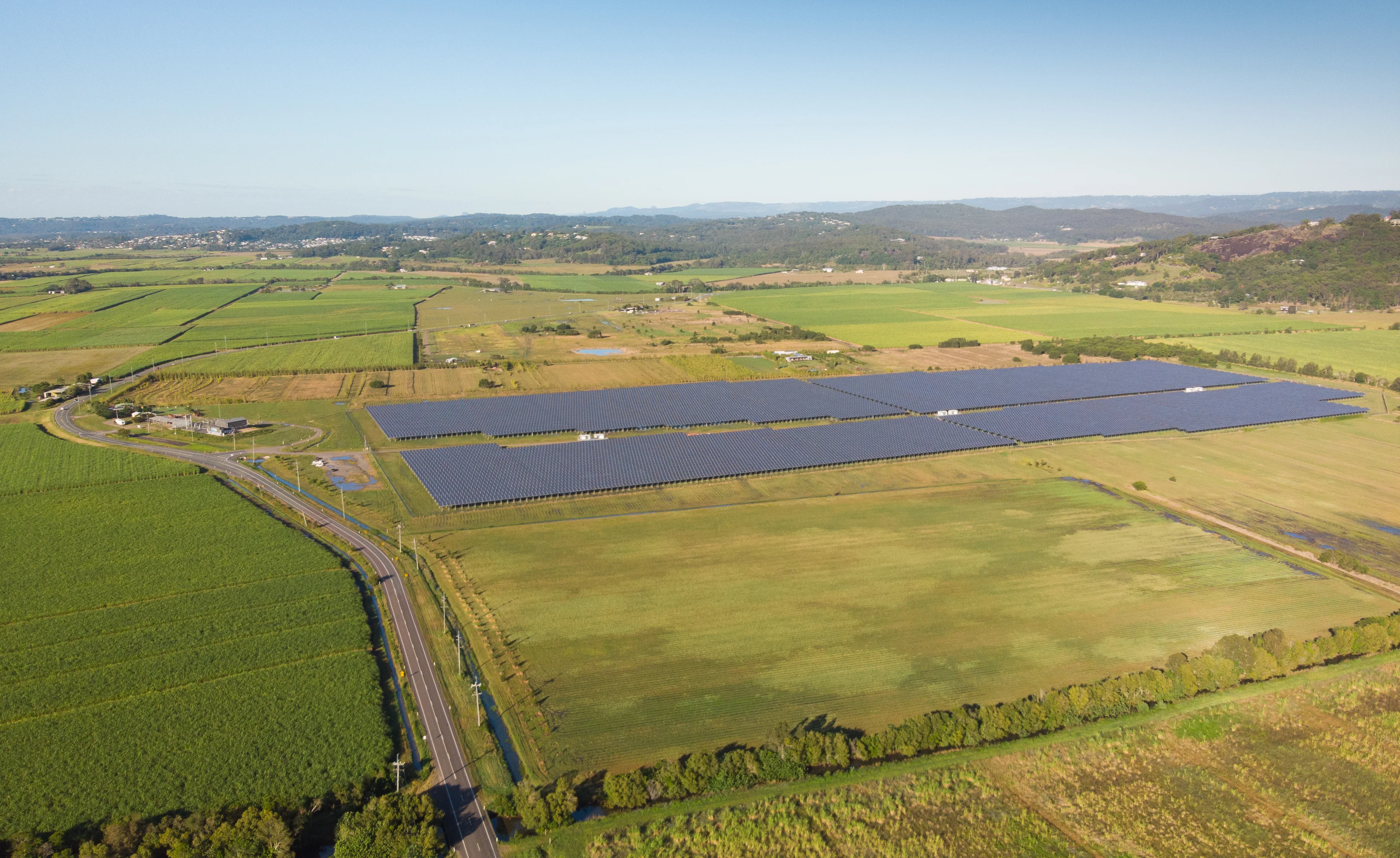 Council's vision of becoming Australia's most sustainable region reached a major milestone in 2017 when the Sunshine Coast solar farm's construction and commissioning was completed.
The award winning solar farm project began in 2013, was approved in 2015, constructed in 2016 and has been operating since July 2017. It is located at 909 Yandina-Coolum Road, Valdora.
The Sunshine Coast Council is the first local government in Australia to build, own, and operate its own solar farm. The generation of renewable energy from the solar farm offsets council's annual electricity consumption across all its facilities and operations. Live generation data from the solar farm can be viewed on the solar farm website.
Construction and commissioning
The 15 megawatt (MW) fixed tilt solar farm has 15,256 Schletter screw piles and posts, which support 1,449 tables (483 'electrical' tables) that hold in place 57,960 Trina solar PV panels. The panels generate electricity which feeds into six large SMA 1500V MVPS 2500kVA power conversion units and a power plant control room.
View the solar farm layout plan (PDF, 1846KB).
The power plant control room houses sophisticated electrical equipment which monitors and controls the flow of electricity into the grid, via Energex's 33 kilovolt switchyard. Commissioning of the solar farm included rigorous testing of the solar farm's electricity generation to ensure it would be injected into the power lines safely and within specific limits dictated by Australia's national electricity rules.
Operation and maintenance
The solar farm is operated and monitored by council to meet the generator performance standards agreed with Energex and the Australian electricity market operator. Strict asset maintenance schedules dictate when in-field maintenance tasks are required.
Diamond Energy is council's electricity retailer who buys and sells electricity in the national electricity market on behalf of council. The solar farm is also accredited under the large-scale renewable energy target administered by the clean energy regulator.
In addition to generating clean energy from the solar farm council has:
installed approximately 600 kilowatts of rooftop solar distributed across its buildings and facilities
installed an 850 kilowatt waste-to-energy generator at its Caloundra landfill facility.
These facilities will contribute to council's ongoing emissions reduction planning.
Benefits to the region
Council's Sunshine Coast solar farm complements the broader Sunshine Coast community's transition to renewable energy over the past decade. According to data from the clean energy regulator, in addition to the solar farm, the Sunshine Coast region has installed 360 MW of rooftop solar PV capacity since 2008 and more than half of all dwellings (53%) have now installed solar PV on their roofs.
Fast facts
The first solar farm built by a local government in Australia
The first solar farm in Australia to operate at 1500 Volts to operate more efficiently
The solar farm has received 6 state and national awards that recognise excellence in sustainability, innovation and environmental leadership.
News and media
For more information, please email council's solar farm project team [email protected].