Development indicators report
The development indicators report presents a unique picture of development activity on the Sunshine Coast.
Gain insight into development activity on the Sunshine Coast. Council's development indicators report provides a health check on our local development industry.
Find out more about the amount and the types of development on the Sunshine Coast. Our reports contain information on planning, subdivision, plumbing, building and construction activity. They also include information on assessment of development applications.
Highlights of the report include:
the value of building construction
growth suburbs
statistics for key stages of development
comparisons from previous years.
Maps
Historical reports
View historical reports from 2018 onwards.
These reports are available for industry, media, community groups and public use. Please acknowledge Sunshine Coast Council as the source of the information.
We publish updated information yearly. We use information from council's development application records to produce the reports.
Keep up to date on development in your community. Visit Development.i to start your search.
Contact council's development services for more information or provide feedback on the report.
Disclaimer
Council provides the information in the development indicators report as a general reference source only. Refer to council's website disclaimer.
Development indicators reports archives
View historical development indicators reports.
Featured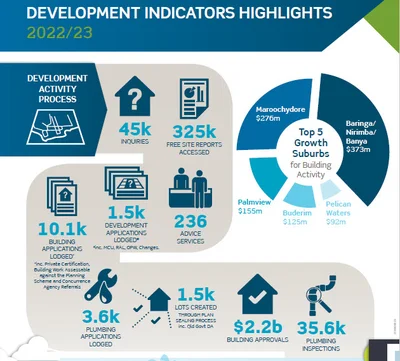 View the 2022/23 development indicators snapshot
View the 2022/23 development indicators snapshot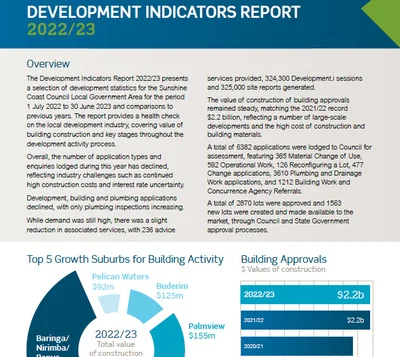 View the 2022/23 development indicators report
View the 2022/23 development indicators report